As we begin to get back into the routine of traveling again, I'm constantly looking for ways to improve on what it was like a year ago before we all had to stop. For a decade prior to that I was traveling so frequently that I simply didn't have a chance to try new things if the old way "worked". Now however, I'm absolutely obsessed with wireless chargers and how far the technology has come. RapidX sent over a few items for us to test out and we're even giving some of them away, so make sure to read down to the end of the article to see how you can win one of the items featured in this roundup.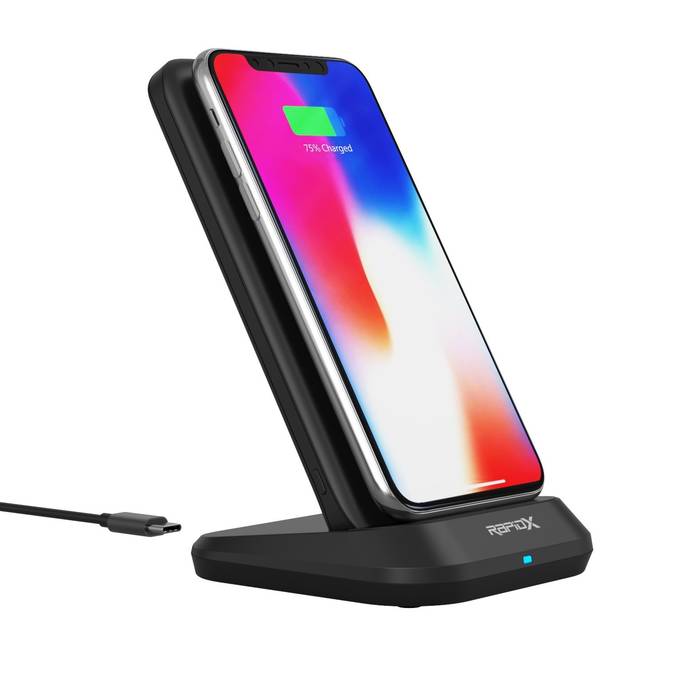 MyPort Power Bank That Is Also A Wireless Charger
If there's one piece of kit that is essential for traveling it is a power bank but I always hate worrying about messy cords when I don't need them. Sure, some devices like my Pocket2 still charge by USB cables but for the most part, I can just take this 10,000 mAh battery pack on the road and it can connect to my phone with a 10W wireless Qi charger as well as 2 USB ports. When back in the hotel room, it just drops right into your charging deck and you can place your phone on top of it to charge both simultaneously. 
Read more about MyPort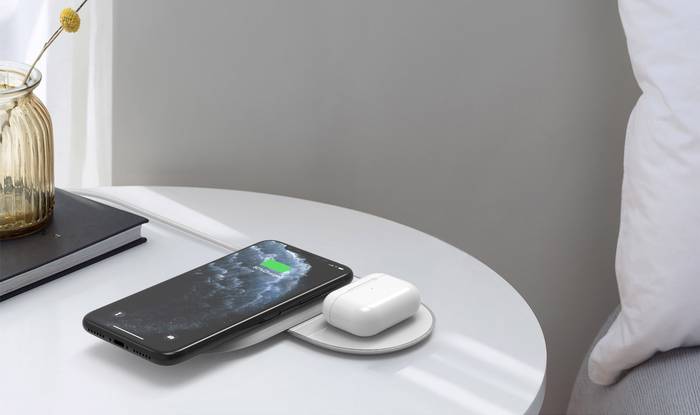 2Tango Dual Fast Wireless Charger
The MyPort Power Bank has earned a place both on my desktop and for traveling but 2Tango is never leaving my backpack. This is a compact, fast wireless charger that can slide apart to offer two 10W wireless charging pads. This means you can charge your phone as well as headphones or even two phones at the same time. I really love the fact that it is compact and it just looks great. I can just plug it in and place it on the table next to my bed and no more fumbling for USB cables.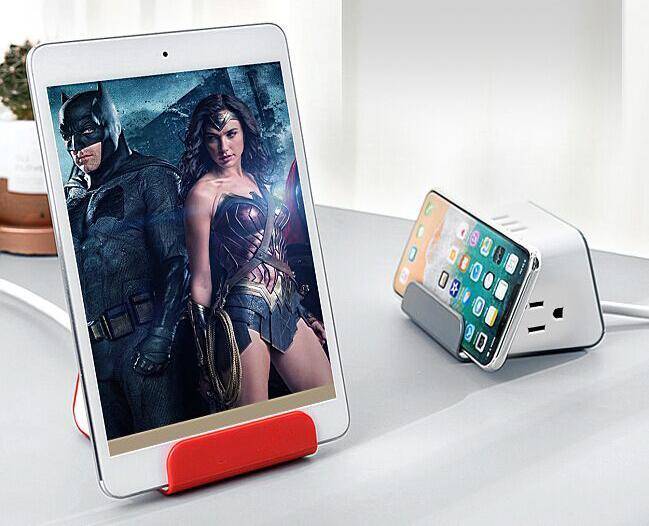 MyDesktop 29W Wireless Charging Stand
Depending on the trip, this may be the solution that I choose to take with me for my desk. I love teh fact that it is super compact and it has three USB ports on top, a 5W wireless charging tray, and two power outlets so you can plug in your laptop, camera battery charger or other gear as well. One thing I really like about this one is that because the phone is oriented sideways, this also potentially makes a great option for using on a long plane flight. This way you can watch a movie and keep everything charged at the same time. So maybe a bit bulky for a airplane tray table but I'm looking forward to trying it, rather than having to hold my phone by hand. This MyDesktop Wireless Charging Stand is ALMOST perfect, so I look forward to the next generation where they can add USB PD charging and a 10W wireless charging tray.
RapidX primarily focuses on making great products for charging at home, so while I was super impressed by the products above for keeping you powered up on the road, these following items are great for home as well.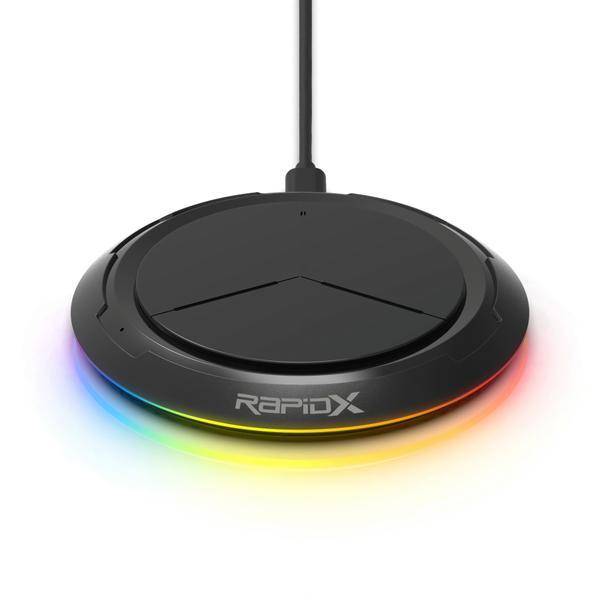 Prismo Color Changing LED Wireless Charging Pad
A few years ago I never thought that I'd care about colored lights on my devices but now I sort of feel like it is fun. My case, power supply, keyboard, mouse, ambient lights are all color changing LEDs so why not my wireless charging pad too I guess. The Prismo is exactly what you expect and it is surprisingly well made with a rubberized surface that prevents your phone from sliding around while being charged. The ambient ring of LEDs around the charger has nine different modes that allow you to change the color and pattern depending on your mood, including solid, pulsing, and shifting. It provides a 10W wireless charging functionality so it is more than just a pretty face on your desktop.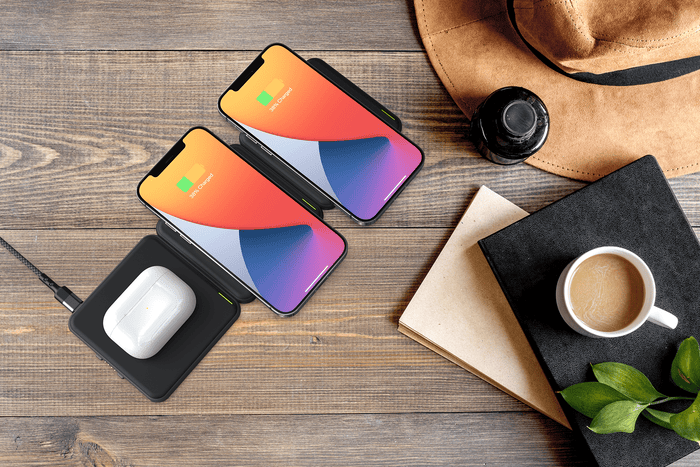 Modula5 Wireless Charging System
I have to admit that I'm really not a fan of this product, but it might just not be something designed for my lifestyle. I tend to lose pieces and I also have limited space on my desk. However, if you have a big desk with lots of space and multiple phones, headphones, and a smart watch then this is a pretty great idea. Instead of having a singular charging station, Modula5 can fit all of your devices together. By itself, the Modula5 charging station is the same price as the Prismo ($29.99 currently) for a 10W wireless charging pad, so that's nice. The magic happens though when you connect other pads to charge up to 7 other devices - up to 5 phones and 2 watches. Just simply add extra pads to the original one and now you can charge everything all at once.
I especially like the fact that the Modula5 Watch Pod flips up so you can still view your watch, instead of having to have it flat on its back.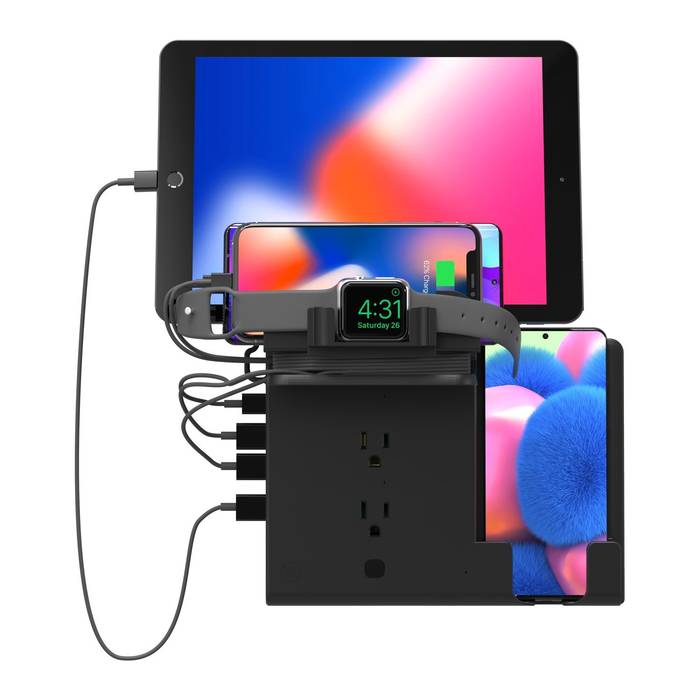 MyCharging Station To Organize Multiple Devices
The MyCharging Station is the big daddy here and plugs into a standard pair of wall outlets. It provides 2 power outlets, 4 USB ports, and a 45W USB-C PD port so you can charge pretty much any device you might have in the house. Each device has a slot to hold it and there's even a hidden cable management system to make it easy without worrying about cords getting tangled up. Additionally, it features a 10W wireless charging pad and a detachable Apple Watch holder.