By Julie Strietelmeier / April 11, 2021 / Reviews / Wireless charging / Leave a Comment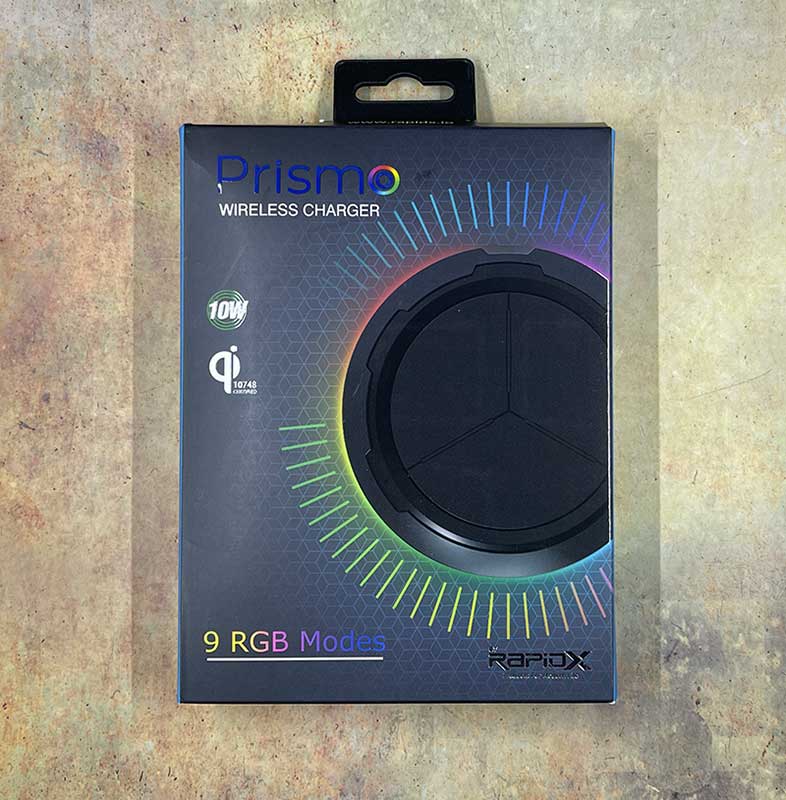 REVIEW – When it comes to wireless chargers there's really nothing very unique about them. They solve the problem of charging your phone without using a cable and without being cool. The RapidX Prismo wireless charger changes that. It charges your phone AND is also cool. Let's take a look.
What is it?
The RapidX Prismo is a 10W Qi-Certified fast wireless charging pad for your phone or other wireless charging enabled devices like Apple Airpods Pro, etc.
What's in the box?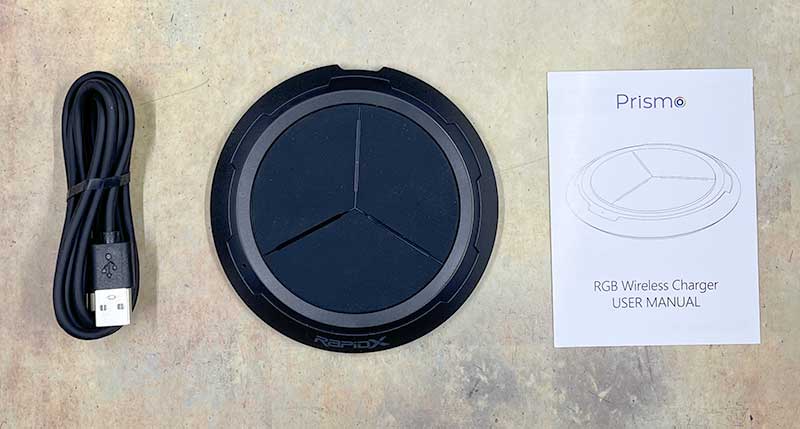 Prismo wireless charger
USB-C cable
User manual
Design and features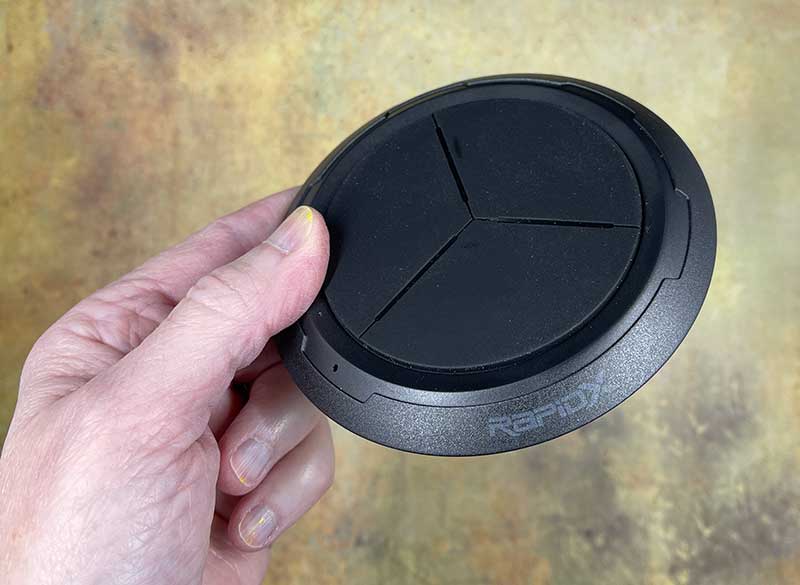 The Prismo wireless charging pad features a rubber pad on top that won't scratch your phone/device. There's also a little status LED on the edge (see it near my thumb?) of the charger that glows blue while charging or flashes blue if your phone can't charge wirelessly or if you put a foreign object on the charger.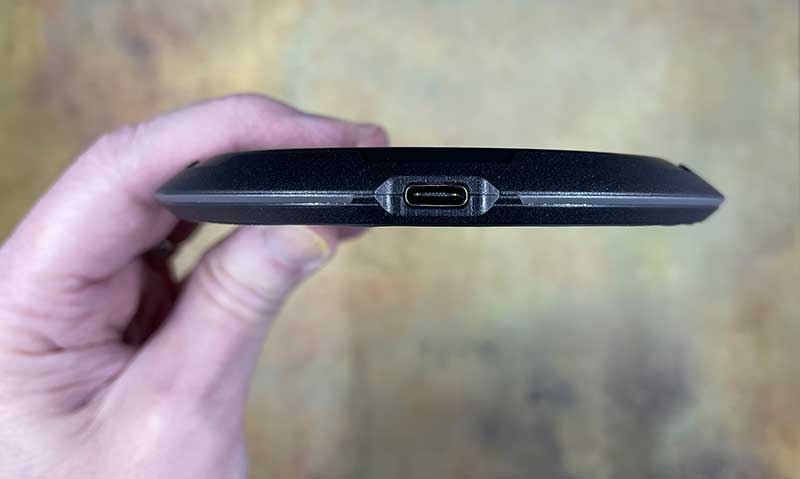 You can find the USB-C port on the edge. Note that the Prismo does NOT come with an AC adapter. If you want your device to charge quickly, you'll want to make sure to use a QC (Quick Charge) power adapter or a USB-C PD power adapter.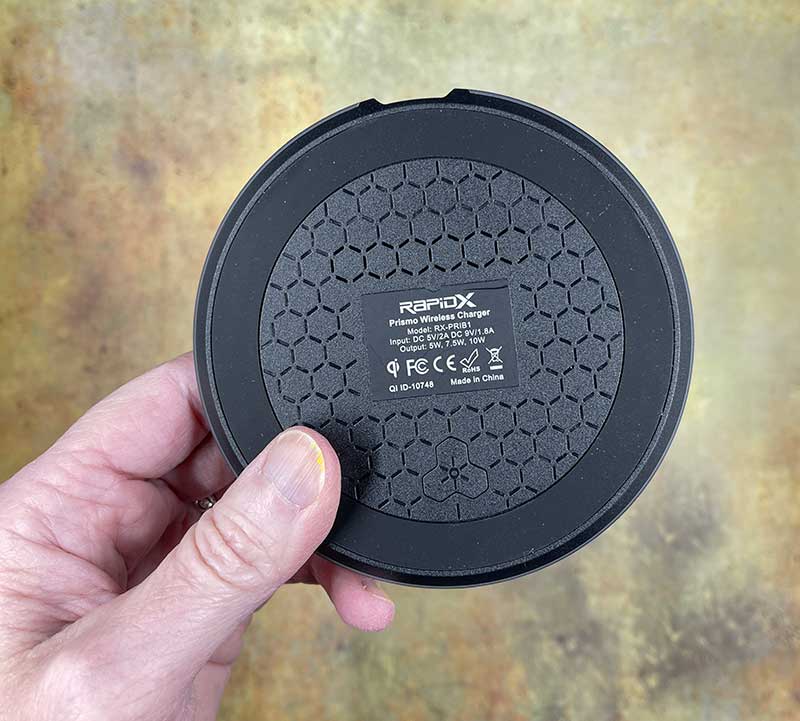 On the bottom of the charging pad is a ring of rubber that will keep the charger from sliding around on your desk. There's also a hidden RGB color mode button on the bottom. Can you see it? It's at the 6 o'clock position in the image above.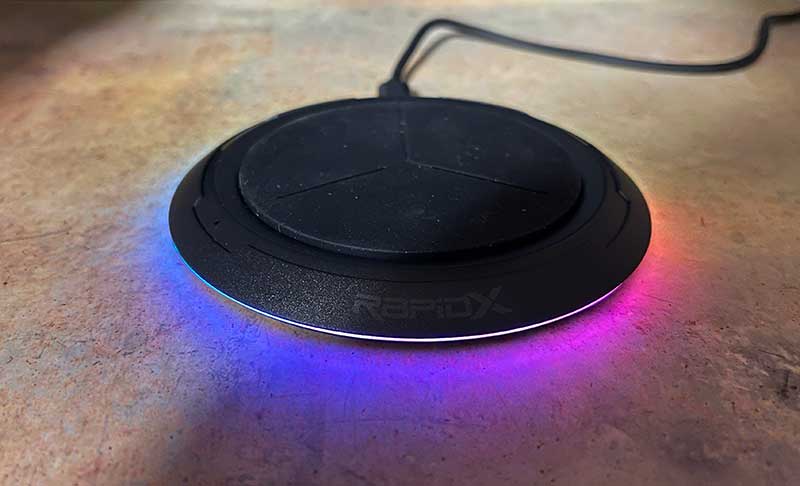 When the Prismo wireless charging pad is connected to power there's an ambient light ring around the pad that glows all the time. The button mentioned above cycles through RGB modes. You can choose from solid colors or cycling colors. The effect is really cool but if you get tired of the glowing light, you can turn it off by holding the button on the bottom for several seconds.
See it in action
What I like
9 different lighting effects
What I'd change
Final thoughts
If you've been embarrassed by the genericness (is that a word?) of your plain old vanilla wireless charger, the Prismo wireless charging pad will erase that pain and make you the envy of every geek and nerd within a 10-mile radius. Or it might just look cool on your desk while it charges your phone.
Price: $29.99
Where to buy: RapidX and Amazon

Source: The sample for this review was provided by RapidX.