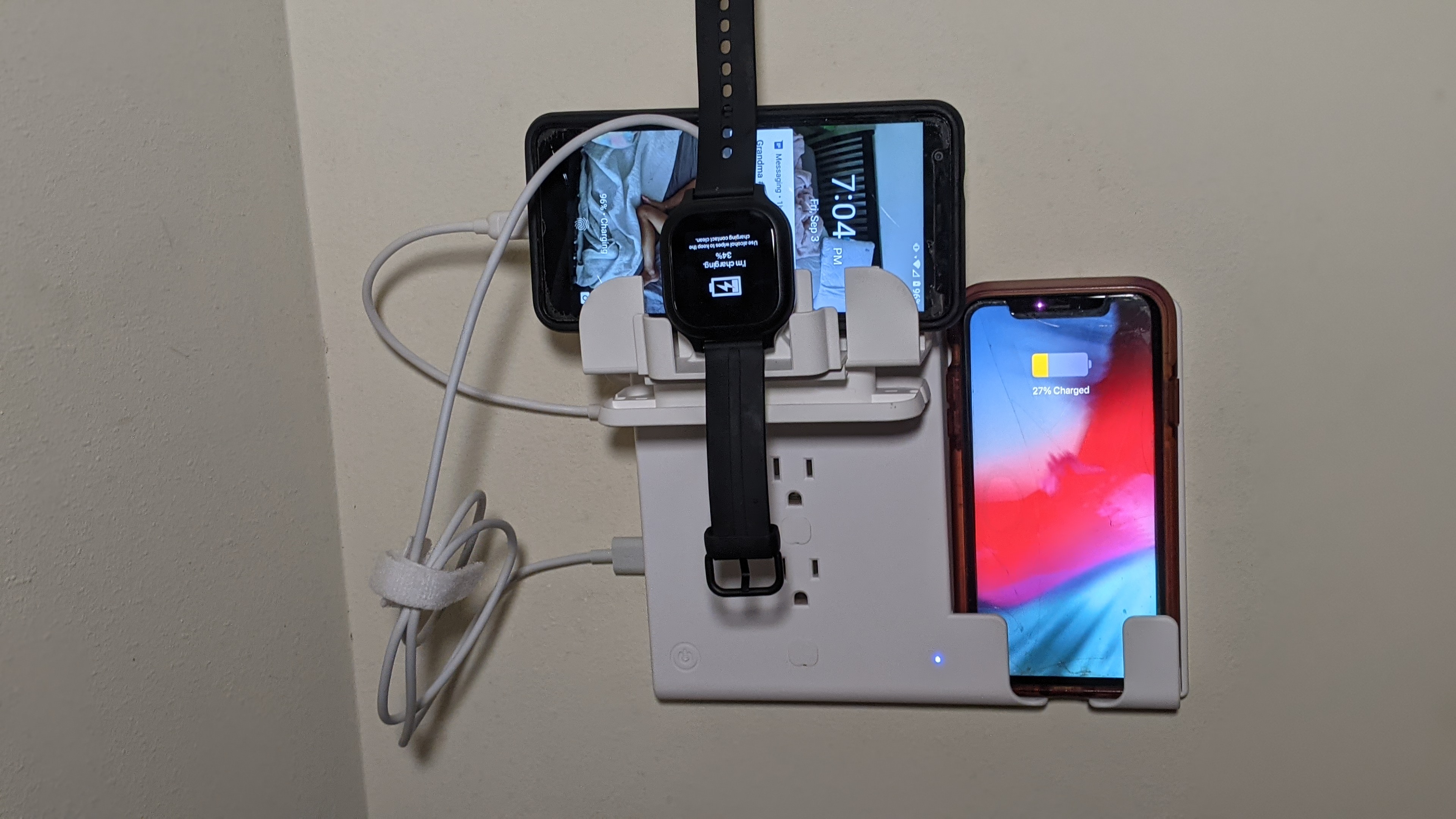 As our beloved gadgets evolve, so too must our accessories. And that doesn't just mean new versions of old technology, like bigger power strips with the outlets properly spaced to accommodate a gaggle of large adapters. Today's best chargers are reimagined based on function, efficiency and location.
With that in mind, RapidX sent me their MyCharging Station to check out for myself—and with my family's myriad mobile gizmos. What makes it special isn't just that it charges multiple (in fact, up to seven) gadgets at once. Other docks can do that, more or less. But this one does it in a way that's designed for today's devices, without requiring bulky adapters or taking up a single square centimeter of counter space.
The Installation Process
The very first step was finding the proper outlet. It had to be a vertical setup with the grounded prong at the bottom (to ensure gravity didn't fight against the devices while charging). And ideally it would be higher than 6 inches off the ground, so the charging devices would be easily visible and accessible, the cats wouldn't be tempted to mess with them and I wouldn't have to bend over to retrieve them after charging. This took a few minutes to arrange and was the longest part of the installation. The rest was just switching off the power to the selected outlet via the breaker, removing its faceplate, screwing in the unit flush against the wall and popping on the little screw-hole covers.
According to the user manual, the unit—when properly screwed in—can support up to 10 pounds worth of devices. For the particular outlet I chose, only one of the two anchoring screws lined up, but the charging station stayed mounted just fine the whole time nonetheless while charging our various phones and watches. I did briefly put on a tablet and light laptop (weighing just a couple pounds), and the whole thing remained secure.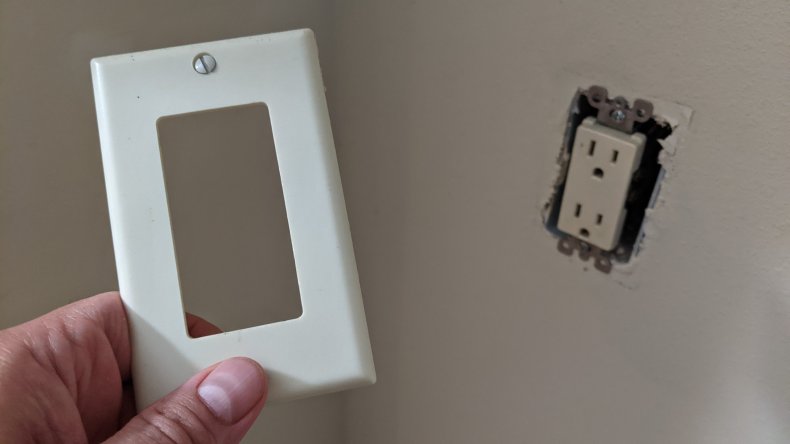 The Power of 7
So far, I've used most but never all of the available outlets at once. It's nice that it passes through the two AC outlets it requires to function, so theoretically I could plug in a more power-hungry laptop. But because the power delivery USB-C outlet on the left side delivers a substantial 45 watts, it takes care of some small laptops, along with all phones and tablets. On that same side, it also sports three USB outlets: Two max at 12 watts, and the QC 3.0 tops out at 18 watts. And the seventh charging area is the Qi-enabled wireless charging stand, which can put out 5, 7.5 or 10 watts, depending on what the device needs. As promised, it worked every time for both my wife's iPhone and my Android phone, each in their everyday phone case.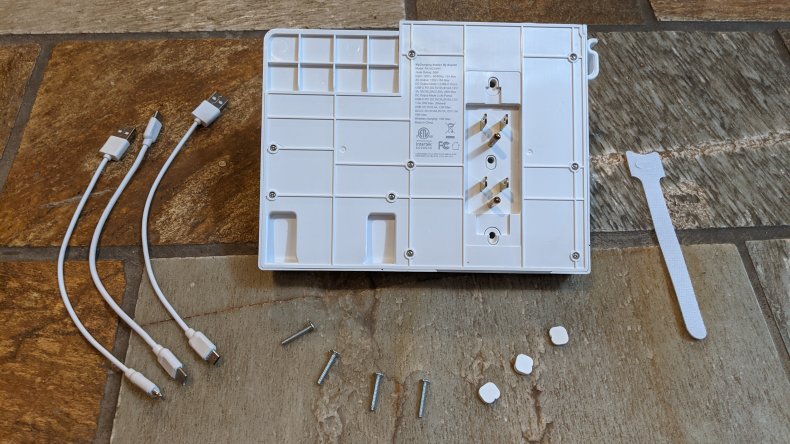 Cable Management
Although this device's primary mission is powering up other devices, its secondary mission is organizing them. The kit comes with three 9-inch cables (just the right length): Lightning, USB-C and Micro USB. If and when you need to use the longer cables that came with your device, the unit sports a couple of handy hooks and channels for guiding those cords out of the way, including a spool under the device tray for the notoriously lengthy cable that comes with Apple Watches. The box also contained a Velcro strap to wrap around a beefier (laptop) cord for which a twist tie might not work.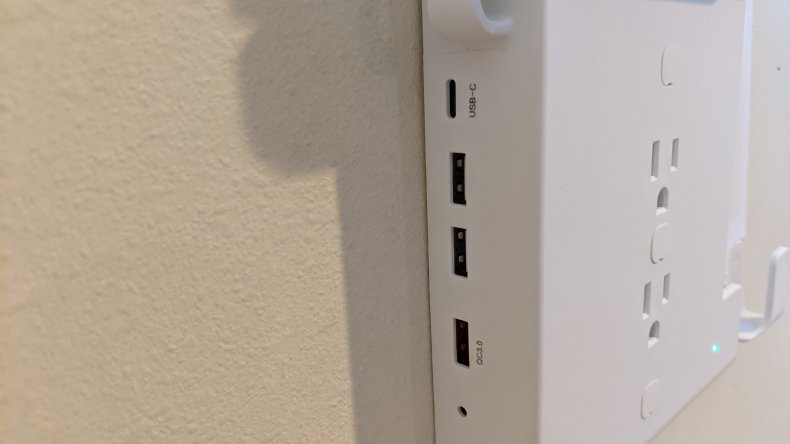 Other Features
As shown in the picture below, the device tray folds up. That's a nice feature to have if, instead of being suspended out of the way, over a counter or on far-away wall, the station is affixed to the side of a high-traffic area like a kitchen island. Even though devices each emit their own glow when charging, I like that the unit features a built-in nightlight that's dimmable with a single button in the evening and that automatically switches off during the day. And last, it's nice that the Apple Watch holder—which I can confirm works with other smartwatches, as well—is removable, to make room for another phone.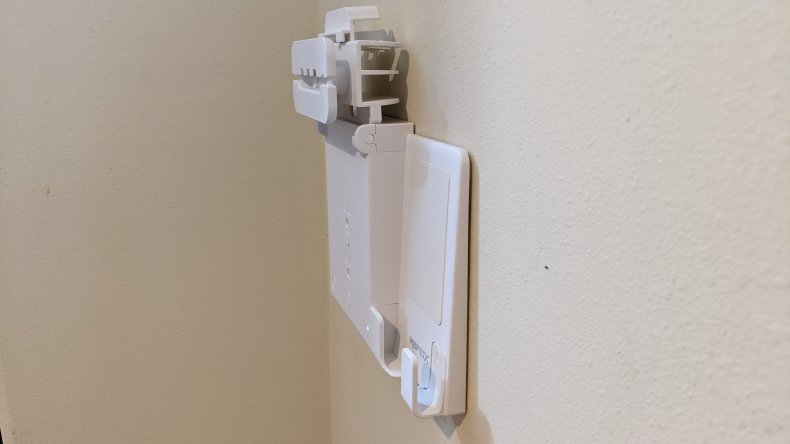 Should You Buy the RapidX MyCharging Station?
I like how this product thoughtfully and efficiently provides a centralized place to power up our mobile devices. For overnight charging, that means those of us who use our phones as alarm clocks need to adjust. But either charging our phones earlier in the day or getting an actual alarm clock is a small price to pay for the peace of mind of having perpetually powered and organized gadgets.